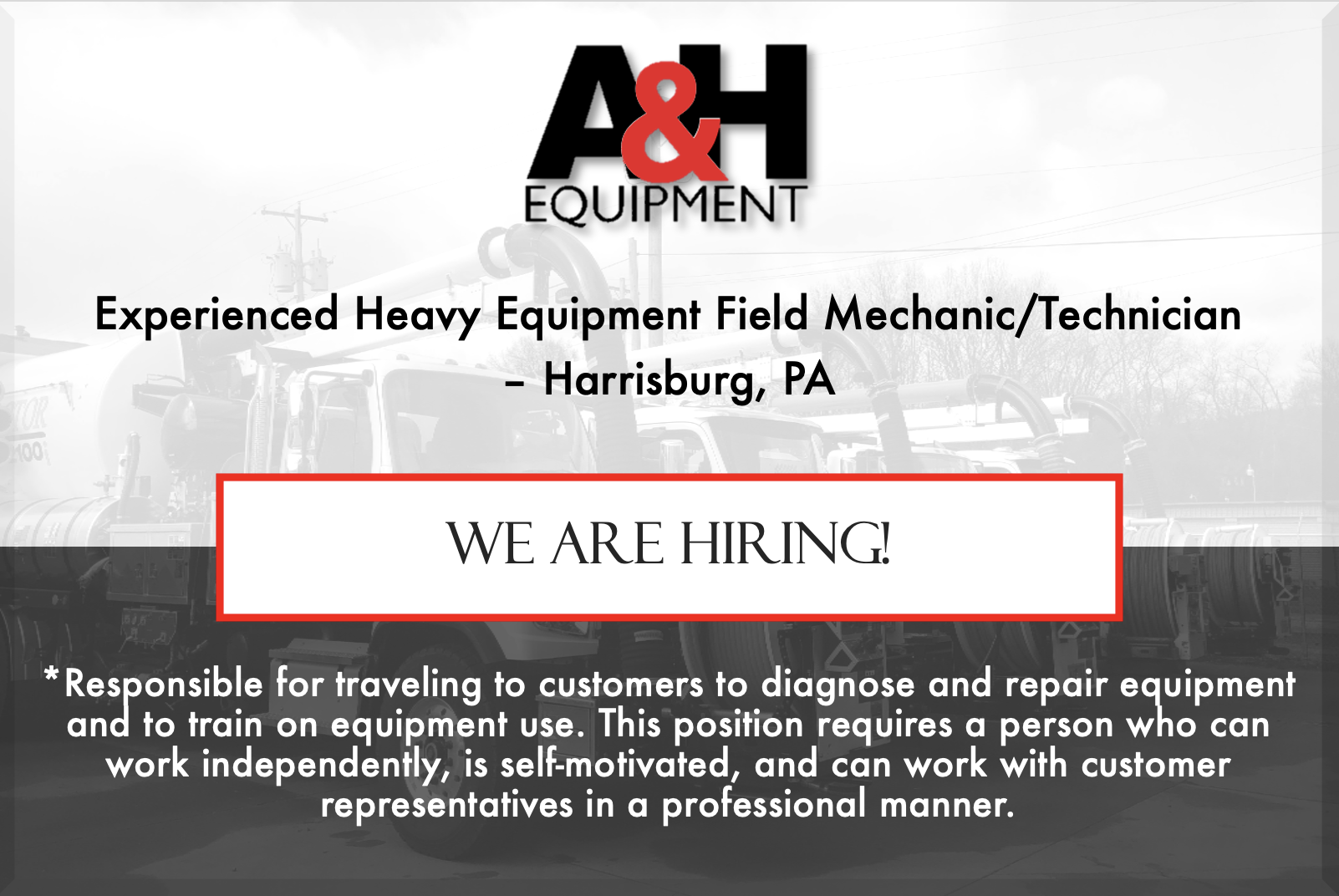 Heavy Equipment Field Mechanic/Technician
A & H  Equipment – Harrisburg, PA
---
Please submit Resume/Cover Letter to John Solovey – johns@ahequipment.com
---
POSITION PURPOSE: The Field Mechanic is responsible for traveling to customers to diagnose and repair equipment and to train on equipment use. This position requires a person who can work independently, is self-motivated, and can work with customer representatives in a professional manner.
---
ESSENTIAL RESPONSIBILITIES:
*Maintain and repair heavy diesel, gas, and electrically-operated construction equipment safely, thoroughly, and efficiently
*Accurately diagnose operational difficulties on equipment and communicate the problem and a planned solution to the customer
*Disassemble and reassemble equipment, and replace defective parts as needed, to ensure equipment maintains functionality
*Prepare required forms, including both online and paper forms, for parts and service reports as required by the Company
*Maintain Company service truck, including keeping it clean and functional, and notify Service Manager if repairs are needed
*Instruct customers' operators in the handling and operation of new equipment
*Maintain a positive, cordial relationship with customers while acting as a representative.
*Live by values; advance and support a culture of leadership, responsibility, accountability, continual improvement, and fun among all employees
*Contribute to overall success by performing additional duties as assigned
---
QUALIFICATIONS:
*Post-secondary mechanic training is strongly preferred, but a combination of education and work experience will be considered
*Must be able to safely and effectively use all tools and equipment necessary to perform work assignments
*Must own adequate heavy-duty hand tools
*Ability to operate all products and models of equipment is required
*Must exercise a high degree of judgment and ability to solve problems effectively and independently
*Good verbal and written communication skills with an ability to read and write the English language
*Basic computer skills, or an ability to learn computer software, including Microsoft Office
*Must be able to working in unstable positions, bending, stooping, reaching, climbing, sitting, standing on feet for long periods of time, and occasionally lifting 50 lbs supported or unsupported
*Must have a valid driver's license with an acceptable driving record and pass a background