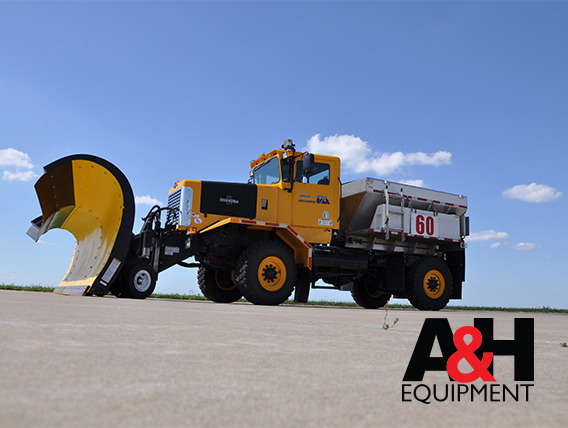 Description
TAKE BACK THE RUNWAY.
OVERVIEW
Unlike commercial vehicles that are merely adapted to plow snow, the P-Series and MPT-Series chassis are specially designed to attack the most severe winter conditions. Chock full of the muscle, durability, reliability, and value that come with 50 years of Oshkosh expertise, these snow chassis readily accept a range of plows, scrapers, bodies, de-icers, and brooms to help you respond with full force.
KEY FEATURES
LEGENDARY ALL-WHEELDRIVE COMPONENTS.
Superior durability comes from road-proven transfer case and the Oshkosh steering drive axle with closed-wheel end design and heat-treated alloy axle shafts. The steering axle's adjustable tapered-roller trunnion bearings are engineered to easily handle the side loads encountered under severe snow-removal conditions.
ERGONOMICALLY-DESIGNED, EFFICIENT DASHBOARD.
Easy-to-reach controls are logically located on an instrument panel that's easy to remove for repair or
replacement of gauges. A convenient touch-pad gear selector (automatic transmission) is at the driver's fingertips. Side-window defrosters are integrated into the dash, and reset-type circuit breakers
are easily accessed from a panel on the dash's right side.
COMFORTABLE, ROOMY CAB.
An air-ride driver's seat delivers maximum comfort, while a flat floor provides comfortable accelerator
and brake pedal locations, and makes cleaning the cab very simple.
SMOOTHER RIDE, LESS COMPONENT STRAIN.
The P-Series and MPT-Series allow full front suspension travel, thanks to our from the-ground-up design emphasis. That same dedicated design provides greater clearance from the engine oil pan to the front axle bowl than competitive models and conversions. That means a smoother ride and less strain on major components over time.
EXCELLENT VISIBILITY.
Safety and productivity are enhanced with a reverse-slope windshield, top-mounted windshield
wipers, and optional side-window wipers. All dramatically reduce snow and ice build up, and help prevent wiper damage. Plus, a short hood  means superior visibility from the driver's seat.
ATTACHMENTS ARE EASILY ADDED.
Plows, dump spreaders and other equipment can be added quickly, without having to first move other components. Number- and color coded wiring harnesses and weatherproof electrical connectors assure easy identification and repair, as well as easy installation of dealer-installed lighting.
PROVEN CAB-MOUNTING SYSTEM.
We use a three-point system of attaching the cab to the vehicle with rubber mount cushions, so shocks, vibrations and torsional strains from roads are absorbed without transferring them to the cab.
SUPERIOR ENGINE-COOLING SYSTEM.
Our heavy-duty fin-and-tube-type radiator has a full 1,000 square inches of cooling area. Its steel
frame and tanks are bolted to a copper core for superior strength and longevity. Mounted above the
frame rails, the radiator location allows room for easy installation of a crankshaft-driven PTO.
FENDERS AND HOOD MAKE ACCESS EASY.
Engine access and equipment mounting are a cinch, thanks to cutaway fenders and a butterfly hood. Daily oil checks can be done from the ground through a small hatch in the hood. And the easy-to-remove fenders give quick, full accessibility for more extensive engine maintenance.
Downloads