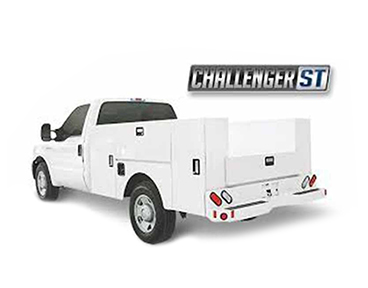 Description
Challenger ST truck service bodies are rugged, dependable mobile workstations.
These service bodies offer multiple compartments and large, open cargo space to provide generous storage and hauling room for all your work truck equipment. An optional truck-mounted mobile crane offers a variety of features and two lifting capacities ideally suited for your service truck application. The storage compartments of Challenger ST service bodies come standard with material trays and can be further configured with optional drawer packages, hooks and additional trays to keep your work truck organized, so you can quickly locate tools and work more efficiently.
To protect your assets from theft and the elements, these service bodies also offer convenient keyed-alike locks, double-panel steel doors with fully concealed bolt-on hinges and weather-tight seals. Challenger ST service bodies are the classic choice of fleet managers and independent contractors alike for their tough galvanized steel construction, convenient storage and access, and extended years of service.
Base body constructed of 14-gauge A-40 galvanneal steel
Body fender panels constructed of with 16-gauge A-40 galvanneal steel and are bolt-on so they can be easily swapped or replaced.
Compartment doors are constructed of two 20-gauge panels of A-40 galvanneal steel with 16-gauge hat-channel stiffeners in between for added strength and rigidity
Why Choose STAHL
STAHL / a Scott Fetzer Company, established in 1946, is a manufacturer of service truck bodies, forestry bodies, mobile cranes and truck accessories. Demonstrating our commitment to customer service, STAHL has strategically located manufacturing and warehouse locations along with a network of distributors throughout the United States and Canada. Whether you lift, store, chip, or haul, STAHL has the truck body solutions to meet your needs.
Downloads