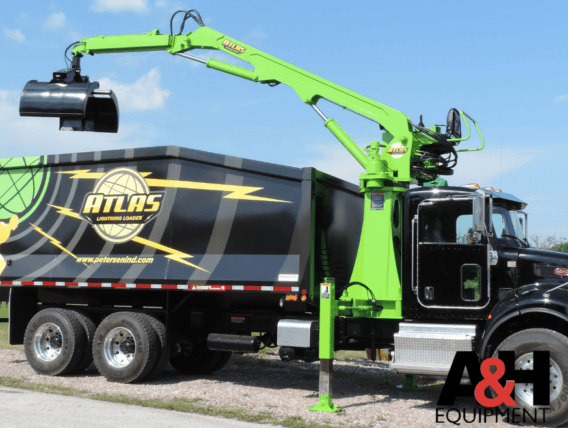 Description
The model AL-1 Atlas Lightning Loader is a heavy duty grapple loader mounted onto a chassis from behind the cab, equipped with Petersen's Big Bite bucket at the end of the boom. The loader operates from a seated platform that rotates with the boom. CNG Capable.
Speed
Atlas is designed to save time in multiple areas:
The work-site set-up is easier and quicker with custom outrigger placement and a boom that can continuously rotate 360° degrees.
During operation, the variable speed pump allows you to use any combination of functions without slowing down while dumping. The dump hoist is power up and gravity down with twin multi-stage telescopic cylinders, giving us a 45% faster dump cycle.
Endurance
In this industry, it's not only about how many hits you can take, but about how long you can keep operating at peak performance. That's why Atlas offers:
A state-of-the-art hydraulic and filtration system designed to keep this vital portion of the loader running as smoothly as possible.
Fully skinned bucket and body in Hardox 450 steel for extreme wear and tear.
Strength
Atlas delivers maximum power during all stages:
Lifting – Whether it's a tree or a Suburban, our lift cylinders can handle any job.
Crushing – Twin cylinders on the Big Bite Bucket can make short work of the
small stuff.
Dumping – We have the heaviest and most stable lifting hoist for whatever you'll be loading throughout the day