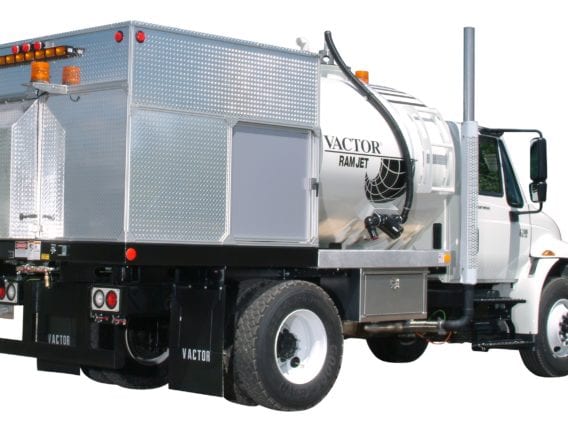 Description
Instituting a regular line maintenance program is easy with the Vactor Ramjet truck-mounted jetter. Equipped with a Vactor JetRodder® water pump, the Ramjet effectively breaks up blockages in sanitary lines, flushes out debris and scours sewer lines clean. The latest series, the RamJet 850 is available with an innovative rear hose reel shroud and Park-N-Clean(TM)  technology.
The rear hose reel can rotate a total of 180 degrees, 90 degrees to curb side and 90 degrees to street side providing direct alignment to manholes and the shroud protects the system from the elements making cleaning in cold weather possible.
Park-N-Clean is a system that allows the operator to park near the manhole and begin cleaning with a minute or two – requiring minimal set up time.
Available with front or rear hose real, the RamJet is easy to operate, easy to maintain and provides high quality Vactor performance you have come to expect.
Downloads