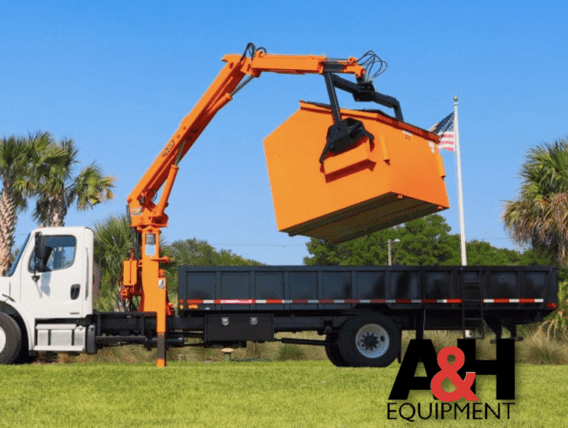 Description
Container Transport using the CP-3 Lightning Loader®
Introducing the CP-3 container transport Lightning Loader@. This model was designed to make your container pick-up and deliveries more efficient, saving time and fuel. It can carry three large containers at once or many smaller ones. The CP-3 container lifts and hauls containers, letting you get the job done quicker with no trailer required. The operator is able to minimize the headache and downtime that comes with hooking up, loading, hauling, and backing a trailer.
The CP-3 unit works with our grapple arm by utilizing our patented crab container lifting attachment engineered to automatically lock onto ANSI compliant commercial front load containers. The arm extends out and latches itself onto the containers. The arm then swings the container over and places it on the back of the truck. If there is more than one container, you will repeat the process as money times as necessary to get all of the containers onto the body. The body features low sides for easy loading.
Don't waste your money, one CP-3 unit could take the place of three rear fork container delivery trucks. This switch could provide your company with 1/3 the costs of payroll, capital, fuel, and insurance expenses; ultimately saving your company $75,000 a year! The CP-3 can also be used for debris pick-up by simply switching out the CRAB ATTACHMENT® for our standard grapple bucket; making it a multi-purpose unit within your fleet.
Watch the video below of our company President, Casey Hardee, operating our CP-3 demo unit on route with Waste Pro.