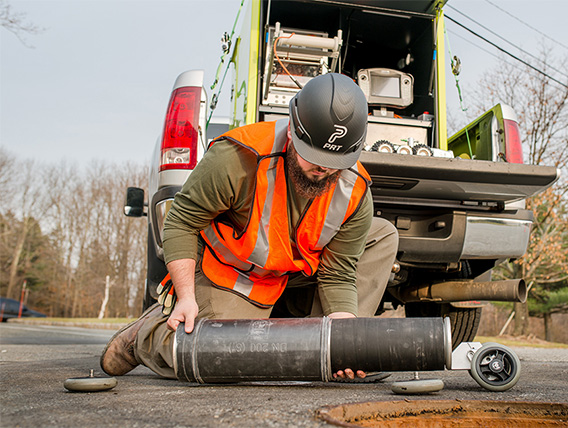 Description
Target failing pipes with a point repair sleeve that installs in minutes
Quick-Lock
Positioned by a crawler and expanded pneumatically, Quick-Lock's rehab sleeve provides structural, trenchless pipe repair with heavy-gauge 316L stainless steel, plus infiltration abatement with an EPDM rubber gasket. Quick-Lock solves:
Infiltration.
Longitudinal cracks.
Circumferential cracks.
Holes.
Separated joints.
Offset joints.
Abandoned laterals.
Root intrusion.
It installs in minutes with minimal manpower and overhead. Quick-Lock is chemically resistant against sewage, thinned acids, lye, and aromatic and chlorinated hydrocarbons.
Quick-Lock sleeves are available in diameters ranging 6–32", and in lengths of 16", 19″ and 20".
Multiple sleeves can be interleaved to perform longer repairs.
The sleeve design meets ASTM F3110-14 for mechanical trenchless point repair.
Point Repair: For standalone point repair, or for pre-lining under high infiltration, Quick-Lock sleeves restore a pipe's structural integrity and seal out groundwater. They minimize diameter loss and outlast any other rehab.
Liner End Seal: Quick-Lock end caps strengthen a CIPP liner at its most vulnerable points—the ends. Stronger and easier to install than other end caps, they're a must-have insurance policy for installed CIPP.
Downloads