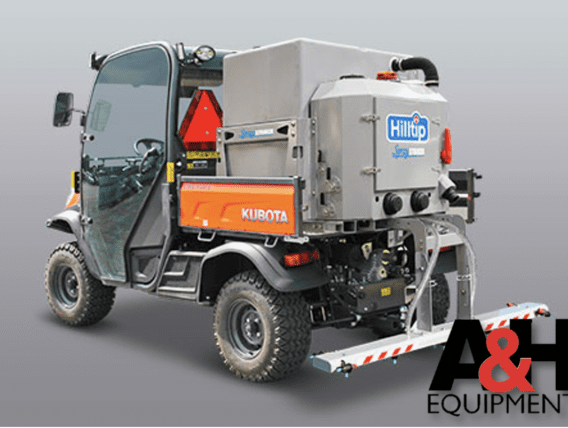 Description
HILLTIP SPRAYSTRIKER™ DISINFECTION SPRAYER
SprayStriker™ 500-2000 l liquid sprayer
LIQUID SPRAYER
The Hilltip SprayStriker™ sprayer can be used for disinfection of city centers, shopping malls, bus and train stations etc. as well as hard to reach areas with our hose-reel option. The sprayer is available with a special telescopic disinfection spraybar that is spraying from the height of 2 m, to have the maximum spray exposure.
When disinfecting, it is not only the disinfectant that is important, but also how you spread it. The well-designed nozzles on the spraybar produces small droplets of less than 140 microns. The small droplets or mist cover the entire surface and the disinfectant is sufficient for a larger area. Hilltip has a long experience of de-icing roads and walkways and the same goes for disinfection.
LIQUID SPRAYER DESIGN
The liquid sprayer is designed for maximum liquid tank capacity and for use on variety of vehicles, trucks and machines worldwide. The durable and light poly tanks are supported by a powder coated stainless-steel frame construction. The liquid pumps and CPU-unit is protected inside an easy-to-reach stainless-steel housing. The electric 12V SprayStriker™ is easy to use and quiet so it can be used in residential areas.